It is unfortunately not a rare thing for children of Tanzania to go to school on an empty stomach—and as we might know, being hungry has an impact on concentration and our ability to learn. There are also children—particularly girls—who do not go to school because their families need them to work or be home to look after their families.
Better hygiene and nutrition enable children not just to learn better but also to have more fun when playing with their friends. School feeding and high quality education empower girls by dissuading parents from keeping them at work or at home from early on, which halts their education. At Tanzania School Trust, we want to stop this spiral of young children getting out of school early and creating a family early on, without a salary high enough to feed their own children.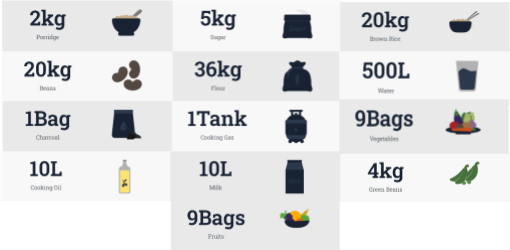 In our Hill Crest School, we developed a school feeding fund to act as an incentive for families to enrol and keep children in school. Relieving parents from having to budget for lunches, and also allowing them to go to work themselves rather than looking after the children, the feeding funds is a huge relief to the parents' incomes and help poverty. Did you know? school meals can come up to 10 percent of the income of most of our families at Hill Crest, which represents quite a sum for many families with over 5 children.
With this in mind, our school opens its doors to our children on weekends to grant them access to meals. Again, we are glad to relieve the parents from having to budget breakfast and lunch for these weekends, but we're also happy to be able to leave the parents off to work knowing their children are fed, safe and happy.
Tanzania School Trust provides nutritious meals so that the children who might not have access to dinner at home will be able to have enough energy until early evening. The meals are always the same each day of the week, this is for efficiency and routine purposes. These meals are our main spend at Tanzania School Trust, costing more than the salaries and the monthly rent.
Here are the food items and quantity we purchase every month: